testis
testis
is a topic covered in the
Taber's Medical Dictionary
.
To view the entire topic, please sign in or purchase a subscription.
Nursing Central is the award-winning, complete mobile solution for nurses and students. Look up information on diseases, tests, and procedures; then consult the database with 5,000+ drugs or refer to 65,000+ dictionary terms. Explore these free sample topics:
-- The first section of this topic is shown below --
(tes′tĭs )


(tes′tēz″)
pl. testes [L. testis, witness, testicle]
The male gonad; testicle. It is one of two reproductive glands located in the scrotum that produce the male reproductive cells (spermatozoa) and the male hormones testosterone and inhibin.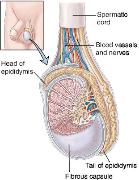 TESTIS

ANATOMY
Each testis is an ovoid body about 4 cm long and 2 to 2.5 cm in width and thickness, enclosed within a dense inelastic fibrous tunica albuginea. The testis is divided into numerous lobules separated by septa, each lobule containing one to three seminiferous tubules within which the spermatozoa are produced by meiosis. The lobules lead to straight ducts that join the rete testis, from which 15 to 20 efferent ducts lead to the epididymis. The epididymis leads to the ductus deferens, through which sperm are conveyed to the urethra. Between the seminiferous tubules are the interstitial cells (cells of Leydig), which secrete testosterone. Within the tubules are sustentacular cells, which secrete inhibin. The testes are suspended from the body by the spermatic cord.

DISORDERS
Hyperfunction (hypergonadism) may cause early maturity such as large sexual organs with early functional activity and increased growth of hair. Hypofunction (hypogonadism) is indicated by undeveloped testes, absence of body hair, high-pitched voice, sterility, smooth skin, loss of sexual desire, low metabolism, and eunuchoid or eunuch body type.

-- To view the remaining sections of this topic, please sign in or purchase a subscription --