trauma
trauma
is a topic covered in the
Taber's Medical Dictionary
.
To view the entire topic, please sign in or purchase a subscription.
Nursing Central is the award-winning, complete mobile solution for nurses and students. Look up information on diseases, tests, and procedures; then consult the database with 5,000+ drugs or refer to 65,000+ dictionary terms. Explore these free sample topics:
-- The first section of this topic is shown below --
(tro′mă )


(trow′mă)
(tro′′mă-tă )


(trow′′mă-tă)
pl. traumata [Gr. trauma, stem traumat-, a wound]

1. A physical injury or wound caused by external force or violence. It may be self-inflicted. In the U.S., trauma is the principal cause of death between the ages of 1 and 44. The principal types of trauma include motor vehicle collisions, military service, falls, burns, gunshot wounds, and drowning.
2. An emotional or psychological shock that may produce disordered feelings or behavior.


FOOT TRAUMA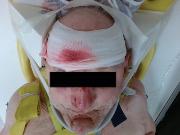 FACIAL TRAUMA
-- To view the remaining sections of this topic, please sign in or purchase a subscription --