hernia
hernia
is a topic covered in the
Taber's Medical Dictionary
.
To view the entire topic, please sign in or purchase a subscription.
Nursing Central is the award-winning, complete mobile solution for nurses and students. Look up information on diseases, tests, and procedures; then consult the database with 5,000+ drugs or refer to 65,000+ dictionary terms. Explore these free sample topics:
-- The first section of this topic is shown below --
(hĕr′nē-ă )


[L. hernia, rupture]
The protrusion of an anatomical structure through the wall that normally contains it.
SYN: SEE: rupture (2)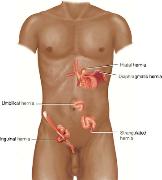 COMMON LOCATIONS OF HERNIAS SEE: herniotomy
hernialhernioid (hĕr′nē-ăl) (hĕr′nē-oyd″), adj.

ETIOLOGY
Hernias may be caused by congenital defects in the formation of body structures, defects in collagen synthesis and repair, trauma, or surgery. Conditions that increase intra-abdominal pressures, e.g., pregnancy, obesity, weight lifting, straining (the Valsalva maneuver), and abdominal tumors, may also contribute to hernia formation.

TREATMENT
Surgical or mechanical reduction is the treatment of choice.

-- To view the remaining sections of this topic, please sign in or purchase a subscription --