mole (1)
mole (1)
is a topic covered in the
Taber's Medical Dictionary
.
To view the entire topic, please sign in or purchase a subscription.
Nursing Central is the award-winning, complete mobile solution for nurses and students. Look up information on diseases, tests, and procedures; then consult the database with 5,000+ drugs or refer to 65,000+ dictionary terms. Explore these free sample topics:
-- The first section of this topic is shown below --
[Old English māl, blemish]
A birthmark or nevus.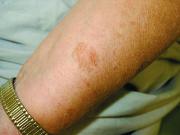 MOLES

Moles should be examined and, if necessary, be removed by experienced professionals.

PATIENT CARE
The patient is encouraged to regularly inspect areas of the skin that have moles and consult a health care professional about any mole that changes color or shows signs of growth or changes in appearance, as such changes may indicate neoplasm.



MOLES
-- To view the remaining sections of this topic, please sign in or purchase a subscription --